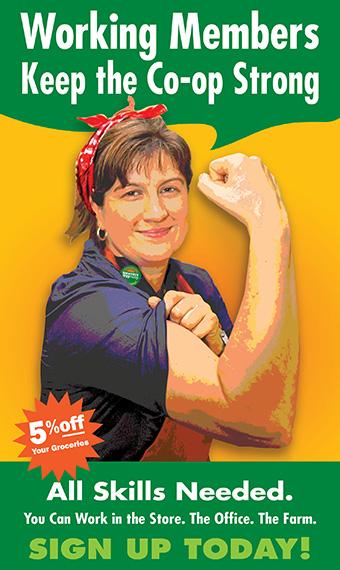 Co-op work hours are optional, but working members are deeply important to the Co-op. Members who work develop relationships with the community, staff, farmers and vendors, and help to make the Co-op a better place.
Working members receive all of the benefits of membership plus an additional 5% off all grocery purchases.
Annual Work Requirement
Six hours for each person over age 16 in a household.

If you spend $100 a week, you can expect to save $260 every year — for a household with two adults, that averages out to $21.67 per work hour.
What type of work do members do?
Weavers Way offers a wide variety of jobs for Co-op members to choose from. We will help you to find a job that is right for you. Among the options:
Stock grocery items, produce and dairy

Package food in the deli and other departments

Unload deliveries

Work at the Weavers Way farms

Assist the Membership department

Proofread or write for the Shuttle

Work with one of our partner organizations or at a community event